Our Journey
Welcome to Unique World of Handcrafted Jewelry - QuiseJewels, the ultimate destination for all your jewelry needs! We are here to make your jewelry dreams come true with our inspiring and exclusive collections of handcrafted women's jewelry. Whether you're a bride, bridesmaid, mother of the bride, or simply looking for the perfect accessory for a prom or special occasion, we've got you covered! 
At QuiseJewels, we believe that jewelry is more than just an accessory—it's a reflection of your unique style and personality. That's why we offer a wide range of handcrafted jewelry pieces that are designed to make you stand out from the crowd.
Our collection includes everything from stunning earrings and necklaces to elegant pendants, bracelets, and sets. Whether you're looking for a heavy Victorian-era bridal jewelry set or a modern and simple minimalist piece, we have something for everyone.
For those who love fun and vibrant colors, we also offer lightweight paper quilling collections and seed beads jewelry that will add a pop of color to any outfit. Our goal is to provide you with a diverse selection of jewelry that allows you to express your individuality and creativity.
When you shop with QuiseJewels, you can expect nothing but the highest quality craftsmanship and attention to detail. Each piece is carefully handcrafted by our talented artisans, ensuring that you receive a truly unique and one-of-a-kind jewelry item.
So why wait? Explore our wide range of collections and find the perfect piece that speaks to you. Whether you're in the USA or anywhere else in the world, we offer worldwide shipping to ensure that everyone can experience the joy of QuiseJewels.
Remember, jewelry is not just an accessory—it's a statement. Make a statement with QuiseJewels and let your inner sparkle shine!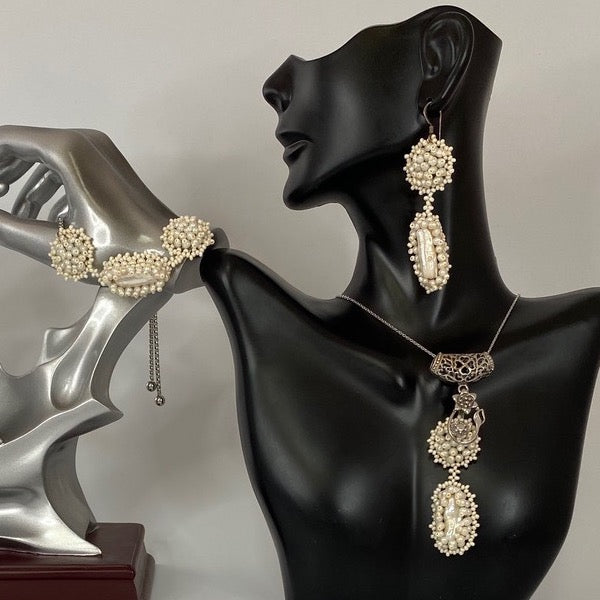 Marching towards my Dream
Have you ever felt like your love for something was just meant to be? Well, that's exactly how I feel about arts and crafts. Growing up in Kathmandu, Nepal, a city known for its rich artistic traditions, I was surrounded by creativity from an early age. It's as if my passion for arts and crafts was ingrained in my DNA.
How did it all begin?
Let me introduce you to the two incredible women who shaped my artistic journey – my mom, "Nirmala Aryal Dixit," and my grandma, "Dhana Aryal." These two talented ladies not only passed down their artistic skills but also ignited a deep love for creativity within me.
As a child, I was mesmerized by the beautiful knitting, crocheting, and beading works that my mom and grandma created. I would spend hours watching them work their magic, and it sparked a fire within me to create something beautiful with my own hands.
Discovering my true passion
While my family excelled in various crafts, my heart was drawn to painting and sketching. There was something magical about putting a brush to canvas and watching colors come to life. I would lose myself in the process, creating vibrant and imaginative artworks.
Even during my teenage years, I couldn't resist the urge to create. I would gather fabric pieces, buttons, and even broken items to craft unique jewelry for myself. It was my way of expressing my individuality and adding a touch of quirkiness to my outfits.
Embracing the world of arts and crafts
As I grew older, my passion for arts and crafts only intensified. I started exploring different mediums and techniques, constantly pushing myself to learn and improve. Whether it was experimenting with pottery, paper mache, or origami, I was always eager to try something new.
Arts and crafts became my escape, my therapy, and my way of connecting with the world around me. It allowed me to express my emotions, tell stories, and create something tangible out of my imagination. It brought me joy, fulfillment, and a sense of purpose.
Gratitude to my mom and grandma
I owe a heartfelt gratitude to my mom and grandma for nurturing my love for arts and crafts. They not only taught me the technical skills but also instilled in me the belief that creativity knows no bounds. They encouraged me to think outside the box, embrace imperfections, and find beauty in every creation.
Today, as I continue my arts and crafts journey, I carry their legacy with me. Every brushstroke, every stitch, and every creation is a tribute to their love and guidance. I am forever grateful for the artistic genes they passed down to me.
So, if you ever find yourself drawn to a particular art form or craft, don't hesitate to dive in. Let your creativity flow, embrace the quirks, and enjoy the journey. Who knows, you might just discover a hidden talent that was waiting to be unleashed.
Why Us?
I have always held a strong belief that creating unique pieces of art brings me immense satisfaction. Through QUISEJEWELS, I aspire to inspire you as well. Your love and support are crucial for my growth and evolution in this artistic journey, and I hope to become a part of your lifestyle too. Our products are meticulously handcrafted and designed to cater to precious souls like yours. Additionally, I offer customization options for any design you admire. Whether it's color specifications, combinations, or other modifications, a simple message is all it takes to fulfill your preferences.
Hey there! Welcome to QUISEJEWELS, your go-to destination for one-of-a-kind accessories that will make you shine like a star. As a small business, I want to take a moment to express my deepest appreciation for your presence on this incredible journey.
At QUISEJEWELS, we believe that each creation should be as unique as the person wearing it. That's why we don't settle for mass-produced items. Oh no, we take the time and effort to craft each piece individually, ensuring unparalleled uniqueness.
What Makes Us Special?
Well, let me tell you, it's all in the details! From the moment an idea sparks in our creative minds to the final finishing touches, we pour our hearts and souls into every step of the process. We carefully conceptualize the design, play with color combinations, and add those loving finishing touches that make our pieces truly special.
But it doesn't stop there. Our commitment to you goes beyond just creating beautiful accessories. We want your shopping experience to be nothing short of amazing. If, for any reason, you encounter an issue, rest assured that we've got your back. We're more than happy to assist you with full refunds or product exchanges to ensure your complete satisfaction.
Join the QUISEJEWELS Family
When you choose QUISEJEWELS, you're not just buying a piece of jewelry. You're becoming a part of our family. We value your presence and want to make sure you feel the love and care we put into every creation.
So, whether you're looking for a statement necklace, a delicate bracelet, or a pair of stunning earrings, we've got you covered. Let us be a part of your chosen lifestyle, adding that extra touch of uniqueness to your everyday look.
Thank you for being a part of this incredible journey. We couldn't do it without you!